4 Day Weekend Ahead
Well, I'm feeling pretty good today. It's probably because I'm looking forward to a long 4 day weekend and we are even getting paid two days early since the company is shut down for the next four days. Can you believe we don't have direct deposit here? It's insane right? I've never worked for a place that didn't have direct deposit, but whatever. No big deal.
So, last night at bowling my team invited me and my parents to come over to their house for Thanksgiving. I love my team - they are really funny and cool and they are putting on a really big spread tomorrow. So, why shouldn't we go over? It would be nice to have a home cooked meal and be around friends, plus I think my parents would get along really well with the team and it would be nice for them to meet some new people. So, I'm going to pitch the idea to them today. I think I'd rather go to their house instead of spending the day at a casino and losing all my money - ya know?
And then, my friend Danny and a bunch of his friends got a table at the Bank Thursday night at the Bellagio. Has anyone ever been there? It's supposed to be a really nice restaurant/club and of course the Bellagio does everything over the top and we have a table that means we don't wait in line and we don't have to stand up and deal with a crowd. I love that. I don't go to clubs much anymore and I definitely don't go if I have to wait in line. But, since it's a four day weekend I think I might just have to venture out and do something different.
So, Happy Thanksgiving to everyone - I hope you eat to your heart's content...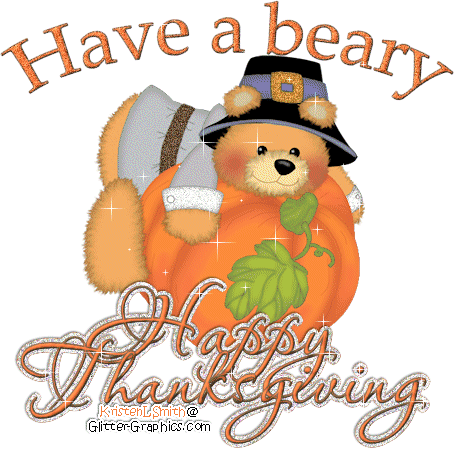 glitter-graphics.com