Friday!
It's Friday!!!!!!!!!!!!!!!!!!!!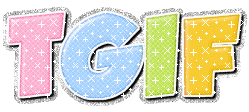 glitter-graphics.com
I couldn't be happier! It's payday, it's blogger weekend and I am predicting a relaxing day at work. Not to mention I'm eating a Krispy Kreme right now. Is there anything better?
The holidays are crazy in this office. The way all of our clients show their love is by sending food. Yesterday they came in and delivered a crap load of P.F. Changs for our office. The day before another client picked up food from a barbeque place. I've been obsessesed with this big tin of popcorn that someeone sent. One third is cheddar popcorn, one third is caramel and one third is butter and salt. The whole thing is delicious. If I don't gain five pounds during this holiday season it'll be a miracle.
It's game on with the tanning salon. I had to cancel my old debit card so that they couldn't continue to take money out of my checking account. And now, I need to find a new place to tan. I have a lot of requirements. I want the place to be really close to my house, I want it to be reasonably priced, it has to be clean, it has to be open weekends and did I mention it should be cheap? Plus, I like strong beds that you don't have to lay in very long. I guess the search is on.