Off the chain
So, how was everyone's weekend?????? Mine was great. I just kept really busy like always. Busy is very good for me. I went to my homegroup Saturday and Sunday, saw my sponsor, went to the Salvation Army graduation Friday night which was very nice (saw a few people from my class graduate on stage and what not), and went to the swap meet on sunday with my mom. It was awesome. I've never been to the "Fabulous Indoor Swapmeet" here in town but there was lots of good stuff for nice and cheap. Love that. I had some free slot play over the weekend too so I took advantage of that as well.
Today in class, you know, pretty much more of the same. Nothing too exciting. Oh yeah, well, I got a bunch of tests taken a few weeks ago (medical stuff) and they all came back negative so I was very pleased about that. Oh, and I woke up an hour late today cause my alarm just didn't go off at all. Ugh. I was going to be very late but luckily I managed to get a ride so I made it right on time.
Well, I should be honest, not everything is sunshine and roses all the time. Im happy for the most part but I find myself flying off the handle every so often, for instance, today in class, this new guy, Mario, wanted to move up next to me even though he usually sits on the other side of the room. He moved up closer to me because he wanted to be near the door. The teacher hadn't dismissed us yet because, well, who knows. We are all court ordered to be there from 8 - 4 everyday. Now, most of the time we get out at 3 and there's a few people (including him) that want to sit there and freakout whenever we get out after 3. So, he's whining and moaning and complaining and getting this huge attitude about the teacher not coming out of his office to dismiss us. So, I let him know point blank that we are lucky to get out at 3 sometimes but that we don't have to be let out until 4 so if we get out early it's a bonus and he shouldn't even be making plans for any earlier than 4. He wants to start a bunch of shit with me and 4 other people jumped on the bandwagon telling me to mind my own business and I'm like "you know, you are the one that moved up here next to me to start complaining in my ear and if you don't like what I have to say move back to your seat" and then I got more shit talking in my ear and I finally got up and went into the teacher's office cause I was about to really lose it. I guess when I got up a fight almost broke out because my friend Mike went off on them for ganging up on me and told them they weren't right and whatever, I dunno, I just know that tomorrow is going to be interesting. I'm gonna try to let it go but who knows.
So, that's it for me. Time to make some dinner and watch some Family Guy! woot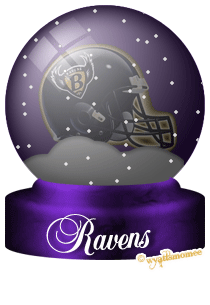 glitter-graphics.com
Another Ravens win this weekend!!!!!!! WAZZZZZUP????????!!!!!!!!