Unbeliveable Day!
Yesterday was totally one of "those days".
You know the type - or here, let me tell you about it.
- I have to go into work early and the alarm doesn't go off. Somehow crazily and luckily enough I make it in on time - just barely.
- Many annoyances at work that I won't get into on here because I vowed not to discuss work anymore.
- I will say that the three proposals I did for the President were wrong. I only had to do three of them for him all week and of course I fucked those three up. I believe he actually wrote the words "boo hiss" on the top of my papers. Good times.
- I'm leaving work and I have only about an hour to get way across town. A good friend flew in from Florida (she was in rehab there for 3 months) and she came back to Vegas to pack up her shit and leave for good. I promised I'd go see her. Well, guess what? The brakes on my car all of a sudden without any warning start doing that metal on metal grinding thing. It makes all of the hairs on the back of my neck stand up because I know that ain't good. I figured I'd drive it until I could get it to the shop on Saturday though because what other choice do I really have? The option of taking off work today is not available at all because we are short staffed and I HAVE to be there.
- Call my parents - dad FREAKS out about grinding sound. They are going to save the day and let me have my mom's car.
- The only catch is I have to drive WAY across town - I'm talking 40 minutes away to do the swap with the cars.
- My parents literally moved the farthest possible point that they could have possibly moved to and still be living the Las Vegas Valley. Is is not one nice easy quick way to get there. They are so very far away from me. Literally the farthest possible point.
- I didn't prepare this trip, I didn't mapquest anything and I don't my way to their house.
- They actually live in North Las Vegas. For those of you who don't know. North Las Vegas is a totally different city than Las Vegas and even though I've lived here 3 years, I've never had to venture into North Las Vegas. It's like driving into Baltimore and trying to find your away around if you are from Annapolis or D.C. - all different cities.
- I drive the car to North Las Vegas and of course I get lost. Brakes grinding, grinding and grinding.
- I take a wrong turn and end up in the most ghetto neighborhood ever. I know I'm fucked and about to die. This is the kind of neighborhood I would have had no problem driving to like, in Miami to go get some drugs, but not so much anymore.
- I finally call parents and have them meet me on the highway cause I can't find my way. They've only been here a week and they don't know their way around either. Quite the ordeal.
- I'm not going to get into the fact that my phone is ringing non stop off the hook with a certain person that wants to fucking argue with me while I'm lost and scared and driving on NO BRAKES.
and then, thankfully, we dropped the car off at goodyear, I got my mom's car and found my way home. Just in time to hit the sack at 11 p.m.
All's well, I'm okay. I just had a very stressful day yesterday. Thank god for sleeping pills because once they wore off, I was awake at 5 in the morning staring at the clock and I'm already a jumbled ball of nerves. It's only 7 in the morning. I'm not really even sure what I'm stressed about at this moment.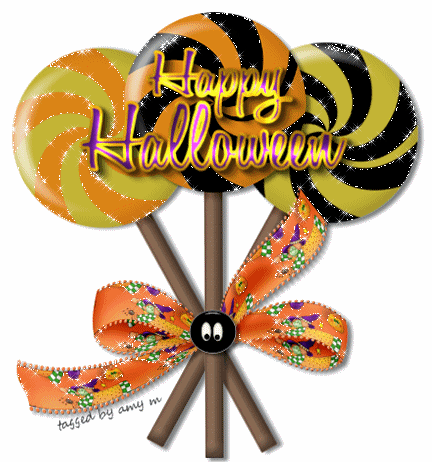 glitter-graphics.com
Thank god it's Friday. Happy Halloween and I'm going to have a beer tonight. JUST KIDDING!
Peace out peeps.